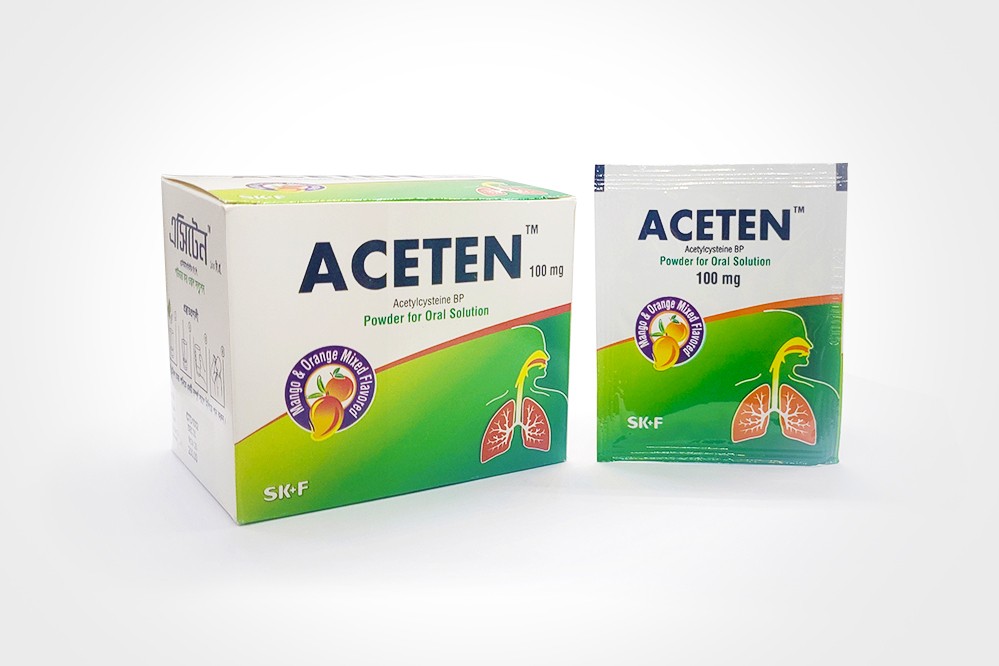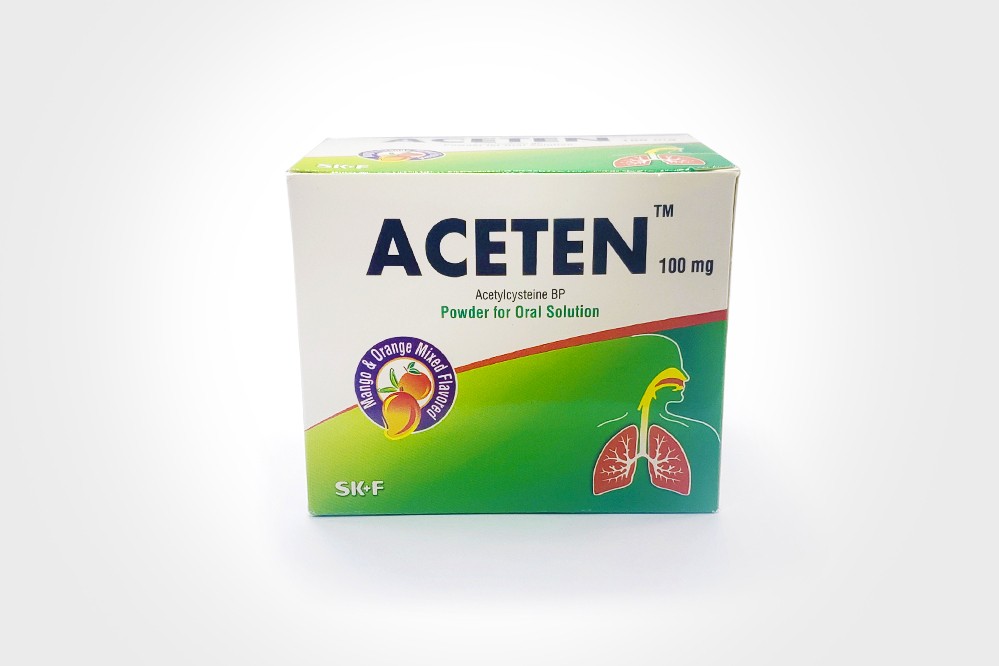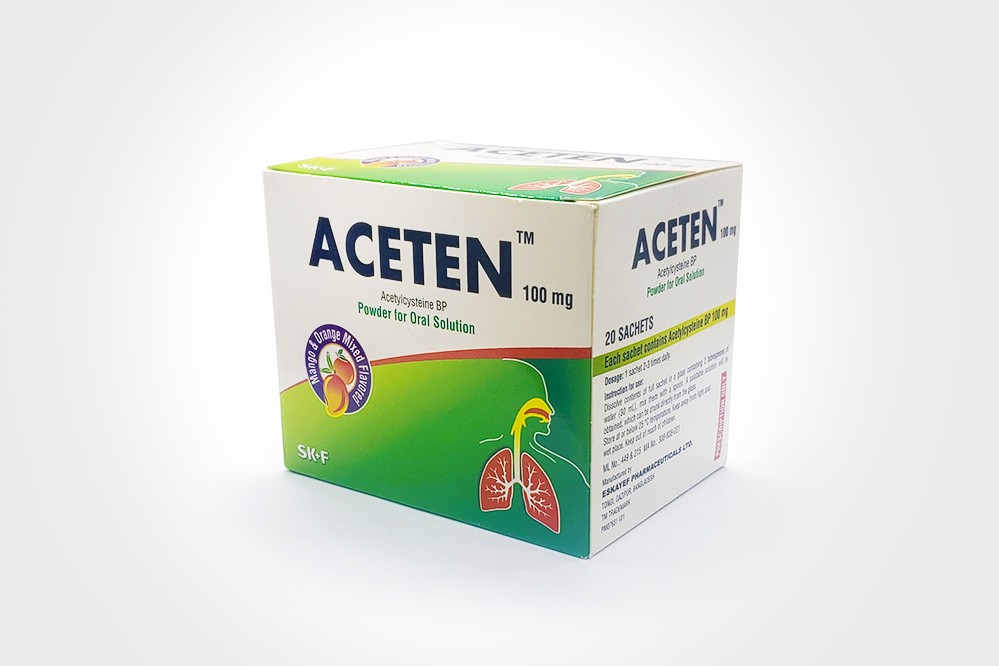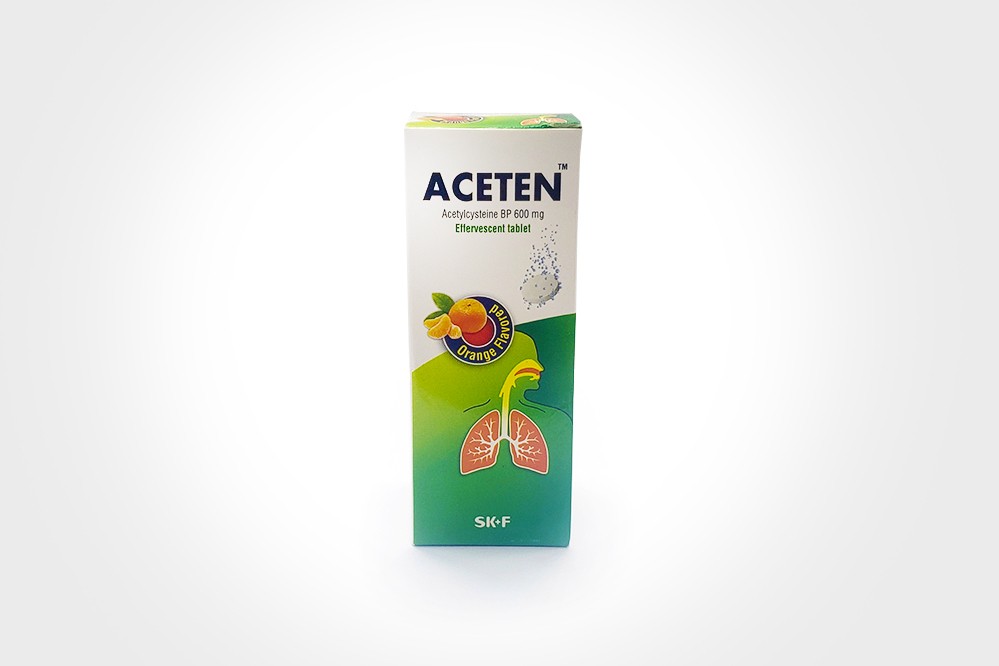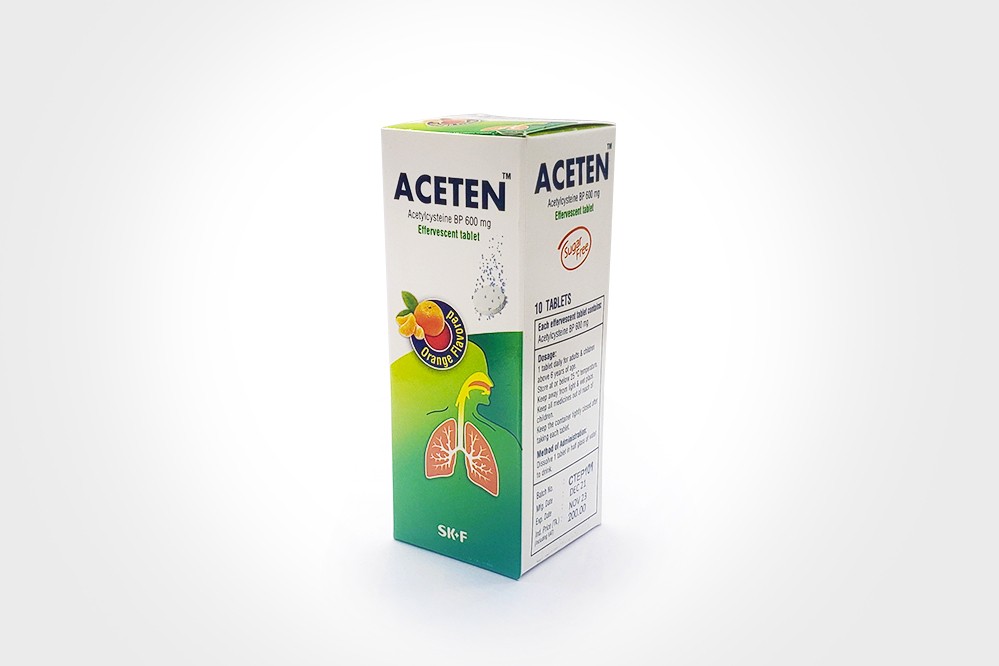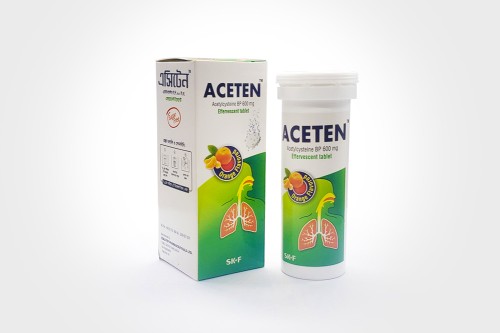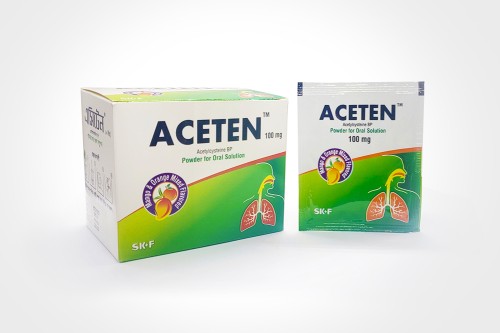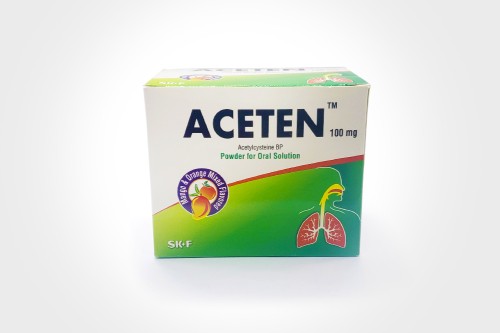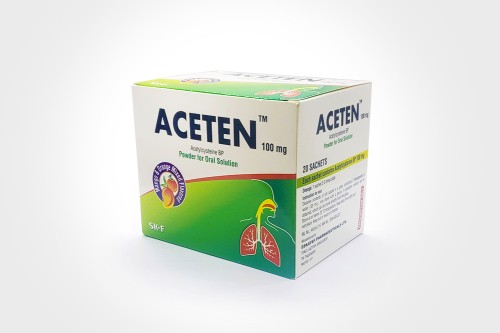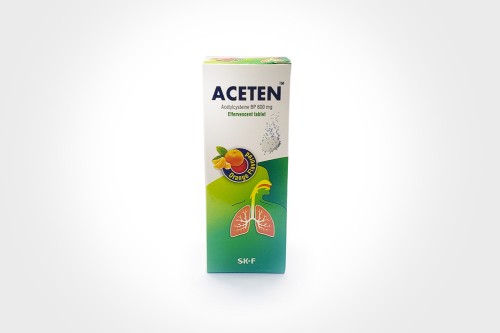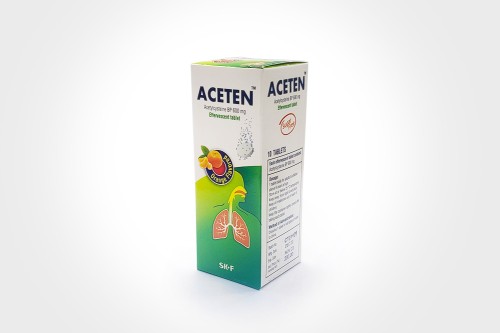 Aceten
Generic Name
Acetylcysteine
Therapeutic Class
Respiratory Care
DESCRIPTION
Aceten is a preparation of Acetylcysteine. Acetylcysteine is an antidote for the treatment of acetaminophen overdose. It is the N-acetyl derivative of the naturally-occurring amino acid, cysteine. Acetylcysteine is a mucolytic. The mucolytic action is caused by decrease in viscosity of the bronchial mucous. This is explained by depolymerization, in which the disulphide bonds in macro molecules present in mucous are opened. In addition, Acetylcysteine is a precursor of glutathione. Acetylcysteine is a derivative of the natural amino acid cysteine, which in the body serves as a substrate for the synthesis of glutathione. In addition to the fact that Acetylcysteine is able to normalize a state of glutathione depletion, it can conjugate with different toxic compounds.
INDICATIONS Acetylcysteine is indicated for pulmonary conditions, requiring viscosity reduction of the bronchial secretion to facilitate productive coughing, such as in bronchitis, emphysema, mucoviscidose, and bronchiectasis.
DOSAGE AND ADMINISTRATION
Effervescent tablet
Adults: 600 mg (1 effervescent tablet) once daily.
Paediatric population: children under 2 years of age: Acetylcysteine 600 mg Effervescent tablet is contraindicated for use in children under 2 years of age.
Children 2 years of age and older, and adolescents: The safety and efficacy is not established in children aged 2 years and older and adolescents. Other forms and strengths of Acetylcysteine are more suitable for these patient groups.
Method of administration: Administer the required dose by dissolving an effervescent tablet in half glass of water. Patients with a muffled cough reflex (elderly and debilitated patients) are advised to take the tablet in the morning.
Powder for Oral Solution
Dosage -
2-5 years: 1 sachet 2-3 times daily.
6 years and above : 1 sachet 2-4 times daily.
Adults : 2 sachets 3 times daily.
Instruction for use: Dissolve contents of full sachet in a glass containing 2 tablespoons of water (30 mL), mix them with a spoon. A palatable solution will be obtained, which can be drunk directly from the glass.
CONTRAINDICATIONS Hypersensitivity to the active substance or to any of the excipients.
SIDE EFFECTS
Acetylcysteine is well tolerated but some uncommon side effects may occur like- • Hypersensitivity reactions • Headache • Tinnitus • Stomatitis, abdominal pain, nausea, vomiting, diarrhoea
PRECAUTION AND WARNING
Bronchospasms may occur with the use of Acetylcysteine. If bronchospasms occur, the medicinal product should be discontinued immediately. Caution is advised in patients with peptic ulcer disease in their history, especially when using concomitantly other medicines known to irritate the gastrointestinal tract mucous. Mainly at the beginning of the treatment with Acetylcysteine, bronchial secretion can become fluid and increase in volume. When a patient is unable to effectively cough up the secretions, postural drainage and broncho-aspiration have to be performed.
USE IN PREGNANCY AND LACTATION
Acetylcysteine effervescent tablets are contraindicated in pregnant women with phenylketonuria due to the aspartame content. There is a limited amount from data on the use of acetylcysteine in pregnant women. Animal studies do not indicate reproductive toxicity.It is unknown whether acetylcysteine is excreted in breast milk, but in therapeutic doses of Acetylcysteine no effects on breast-fed infants are anticipated. Acetylcysteine can be used during breastfeeding.
STORAGE CONDITION
Store at or below 25 °C temperature. Keep away from light and wet place. Keep out of reach of children.
PACKAGING
Aceten Effervescent Tablet: Each tube contains 10 effervescent tablets. Each tablet contains Acetylcysteine BP 600 mg.
Aceten Power for Oral Solution: Each box contains 20 sachets. Each sachet contains Acetylcysteine BP 100 mg.