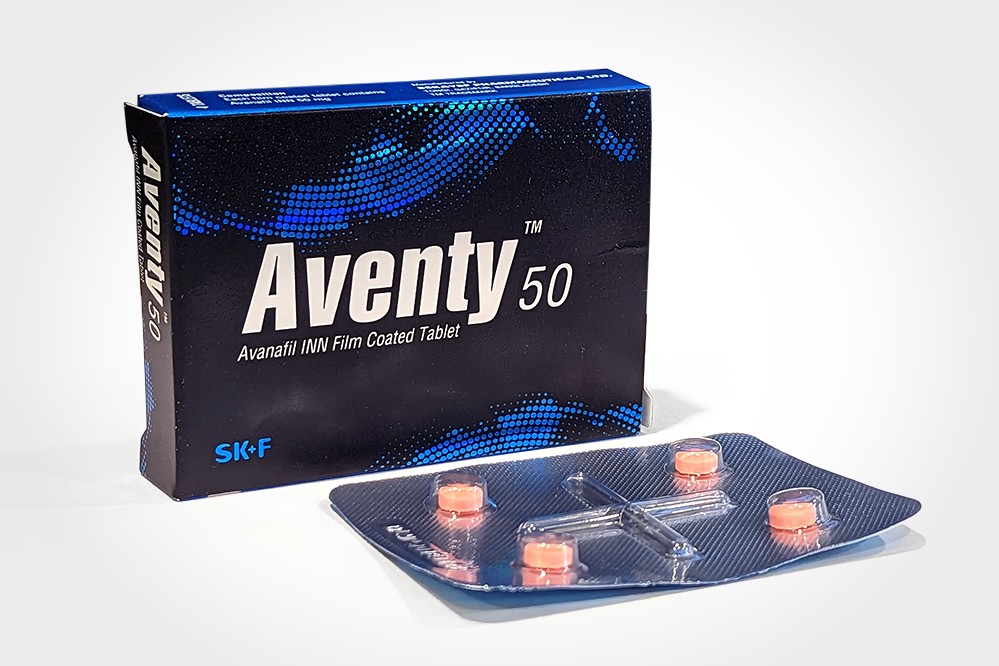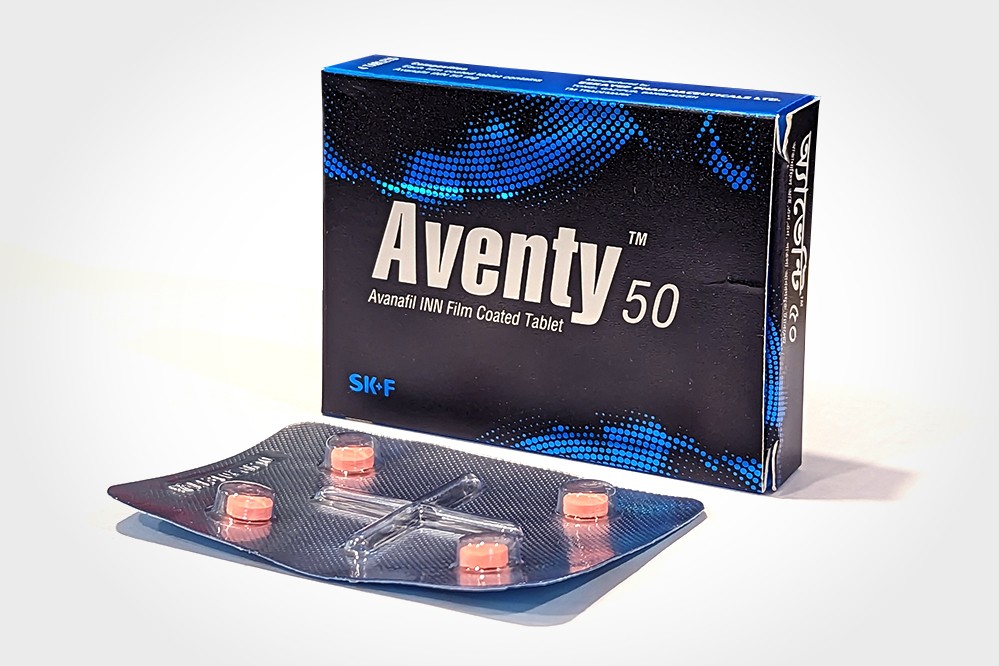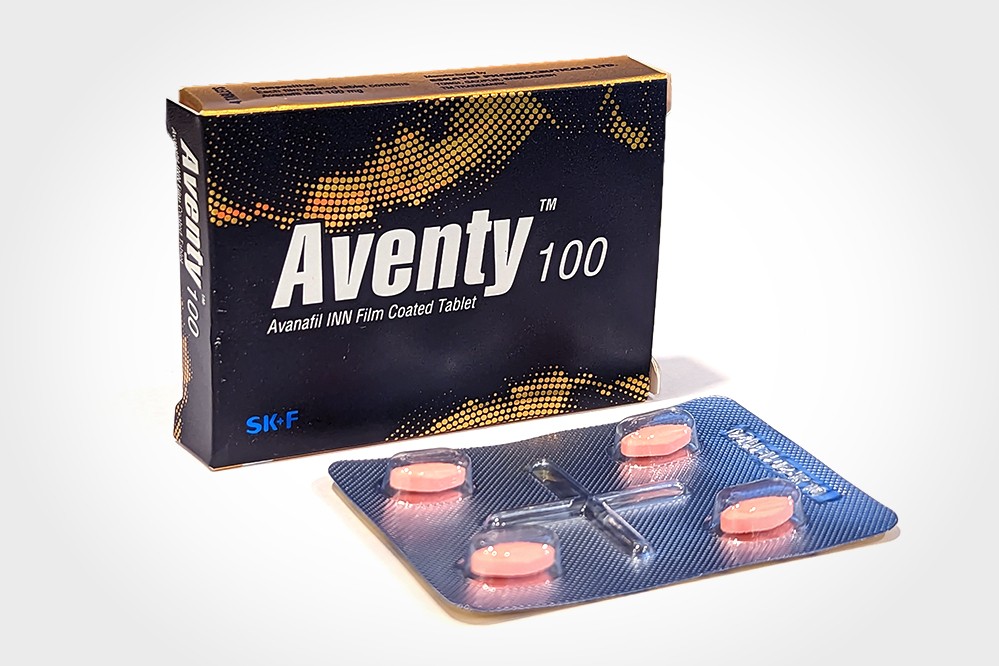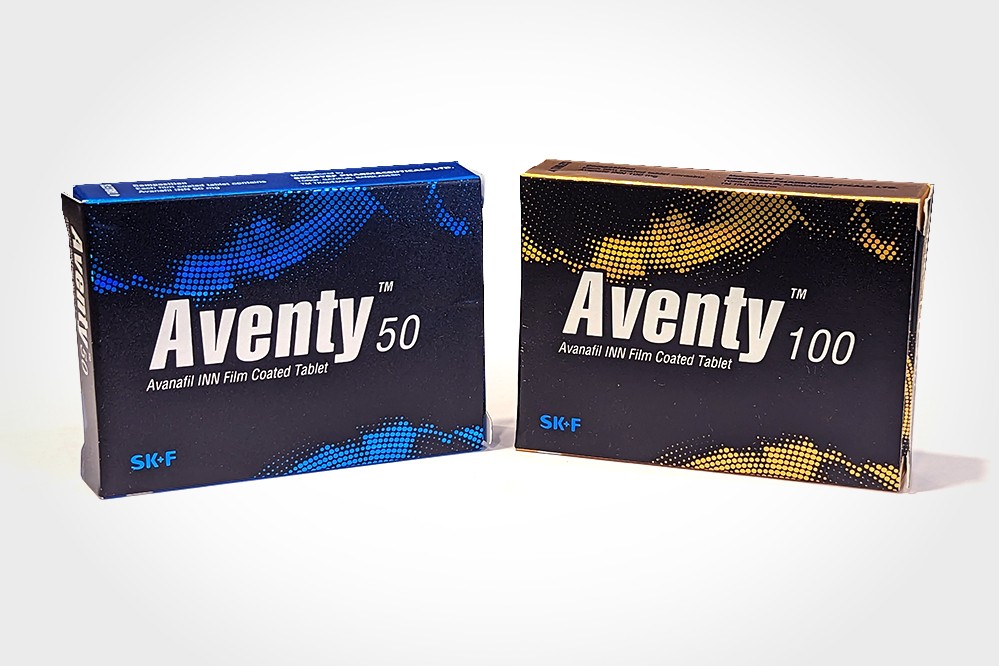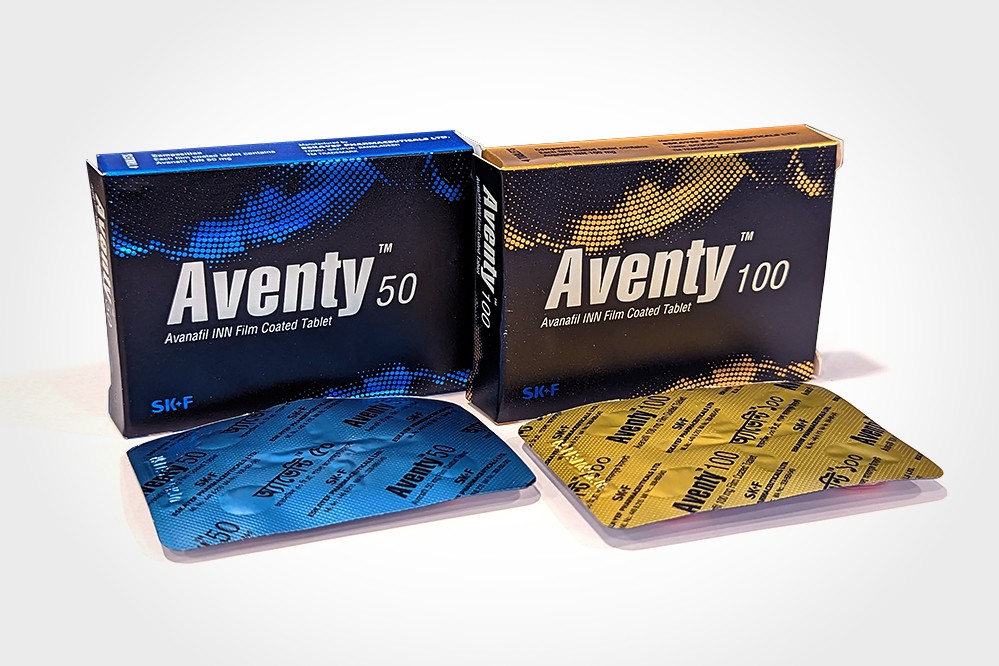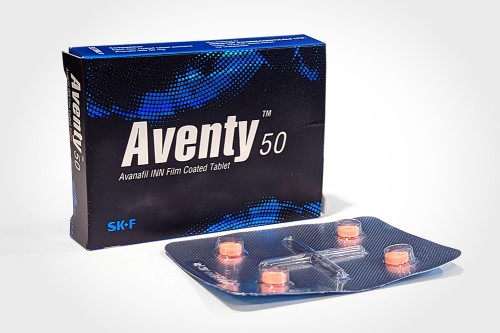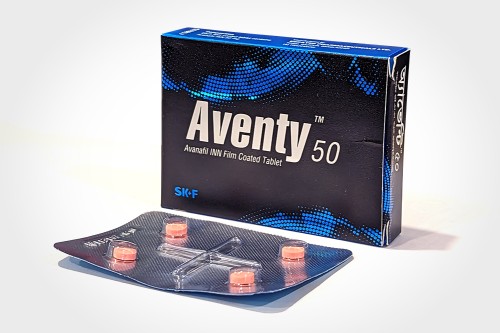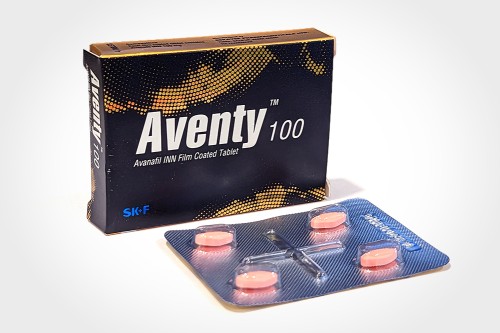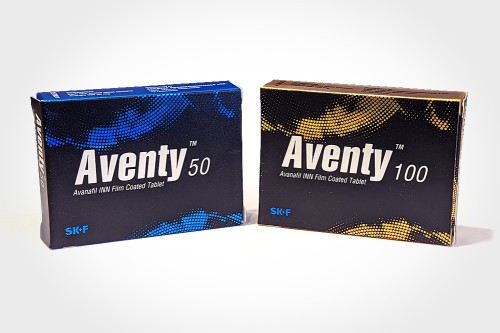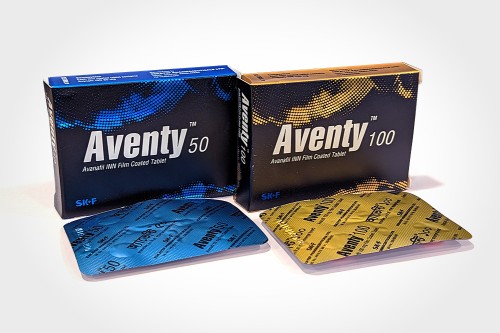 Aventy
Generic Name
Avanafil
Therapeutic Class
Erectile Dysfunction
DESCRIPTION
AventyTM is a selective phosphodiesterase 5 (PDE5) enzyme inhibitor used for the treatment of erectile dysfunction caused by diabetes, age induced oxidative stress or other complications. Avanafil inhibits the cGMP specific phosphodiesterase 5 (PDE5) which is responsible for degradation of cGMP in the corpus cavernosum located around the penis. Penis erection during sexual stimulation is caused by increased penis blood flow resulting from the relaxation of penis arteries and corpus cavernosal smooth muscle. This response is mediated by the release of nitric oxide (NO) from nerve terminals and endothelial cells, which stimulates the synthesis of cGMP in smooth muscle cells. Cyclic GMP causes smooth muscle relaxation and increased blood flow into the corpus cavernosum. The inhibition of phosphodiesterase 5 (PDE5) by avanafil enhances erectile function by increasing the amount of cGMP.
INDICATION
AventyTM is a phosphodiesterase 5 (PDE5) inhibitor indicated for the treatment of erectile dysfunction.
DOSAGE AND ADMINISTRATION
The recommended starting dose is 100 mg taken approximately 15 minutes before sexual activity, on an as needed basis. AventyTM may be taken with or without food. AventyTM must not be taken more than once a day. The dose may be increased to 200 mg or decreased to 50 mg based on efficacy and/or tolerability. Use the lowest dose that provides benefit. Concomitant use of nitrates in any form is contraindicated. Do not use AventyTM with strong CYP3A4 inhibitors. If taking a moderate CYP3A4 inhibitor, the dose should be no more than 50 mg in a 24-hour period. In patients on stable alpha-blocker therapy, the recommended starting dose of Avanafil is 50 mg
CONTRAINDICATIONS
Administration of AventyTM to patients using any form of organic nitrate is contraindicated. AventyTM is contraindicated in patients with a known hypersensitivity to Avanafil. Administration of AventyTM with guanylate cyclase (GC) stimulators such as riociguat and vericiguat is contraindicated.
SIDE EFFECTS
Most common adverse reactions (greater than or equal to 2%) include headache, flushing, nasal congestion, nasopharyngitis, and back pain.
PRECAUTION AND WARNING
Patients should not use AventyTM if sexual activity is inadvisable due to cardiovascular status or any other reason. Use of AventyTM with alpha-blockers, other antihypertensives, or substantial amounts of alcohol (greater than 3 units) may lead to hypotension.
Patients should seek emergency treatment if an erection lasts greater than 4 hours.
Patients should stop taking AventyTM and seek medical care if a sudden loss of vision occurs in one or both eyes, which could be a sign of Non-Arteritic Ischemic Optic Neuropathy (NAION). Discuss with patients the increased risk of NAION in patients with a prior history of NAION.
Patients should stop taking AventyTM and seek prompt medical attention in the event of sudden decrease or loss of hearing.
USE IN PREGNANCY AND LACTATION
Pregnancy Category C. AventyTM is not indicated for use in women.
USE IN SPECIAL POPULATION
Pediatric Use: AventyTM is not indicated for use in pediatric patients.
Geriatric Use: Of the total number of subjects in clinical studies of AventyTM, approximately 23% were 65 and over. No overall differences in efficacy and safety were observed between subjects over 65 years of age compared to younger subjects; therefore, no dose adjustment is warranted based on age alone. However, a greater sensitivity to medication in some older individuals should be considered.
Renal & hepatic impairment patients: Do not use in patients with severe renal & hepatic impairment.
STORAGE CONDITION
Store below 25 °C temperature. Keep away from light and wet place. Keep out of reach of children.
PACKAGING
AventyTM 50 Tablet: Box containing 1 strip of 4 tablets. Each tablet contains Avanafil INN 50 mg.
AventyTM 100 Tablet: Box containing 1 strip of 4 tablets. Each tablet contains Avanafil INN 100 mg.